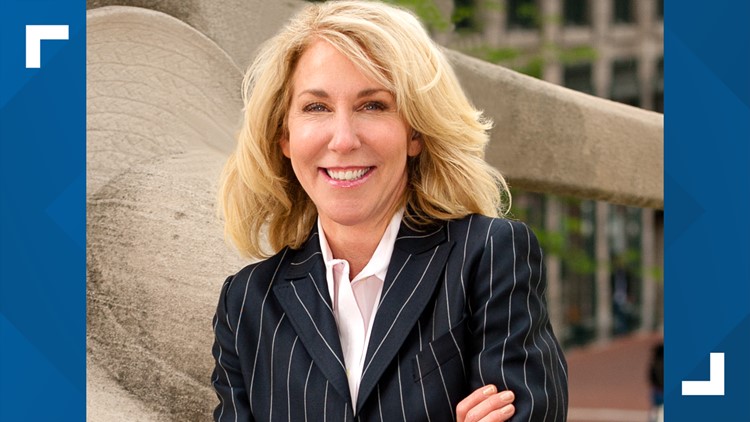 Sherry Seiwert was the organization's second president since its inception in 1993.
INDIANAPOLIS — Downtown Indy, Inc. president and CEO Sherry Seiwert is stepping down at the end of the month. Seiwert has been with the civic nonprofit since 2012.
Seiwert was the organization's second president since its inception in 1993.
"Recently, I've been contemplating what is next for me and what is best for this organization. I couldn't in good conscience leave this organization during a global health crisis, and I felt that the continuity of leadership would be helpful through the pandemic and what became a recovery of our ultimate devastation of Downtown," Seiwert said. "Now, though, I feel we are recovering, and it's time for me to consider my next chapter more fully. It's time for new leadership, and I'm excited about what is to come for DII and Downtown's post-pandemic prosperity and transformation."
Downtown Indy, Inc. points to the following successes during Seiwert's 10 years:
The completion of the Velocity plan – a short-term and longer-term strategic plan for Downtown that eventually gave way to many developments, such as the Market East Cultural District, new pocket parks throughout the neighborhoods of Downtown, and a downtown playground along the Canal;
Initial branding and placemaking efforts and events strategy for Georgia Street, Canal Walk and most recently, Monument Circle;
Launch of the $7.6 million Lilly Endowment, Inc. funded "Shining A Light" initiative on the Circle that now includes nightly patriotic video, light and sound presentations and other seasonally themed programming;
Formation of Downtown Indy, Inc.'s Street Ambassadors program in partnership with HVAF where formerly homeless veterans are employed to clean sidewalks and beautify the Mile Square;
Most recently, key deliverables of the Downtown Indy Recovery Committee that addressed safety/ security, cleanliness, diversity/inclusion and place-branding efforts:

The City of Indianapolis/CIB infused $750,000 into enhanced and laser-focused Downtown safety patrols.
Downtown Indy, Inc. tripled its off-duty IMPD foot and bike patrol officers' coverage from 25 hours/week to 100+ hours/week. The use of off-duty officers has long been a Downtown Indy, Inc.-prioritized initiative.
Downtown Indy, Inc. launched its Safety Ambassador program, hiring four civilians to walk the Wholesale District, checking in on businesses and being extra eyes and ears on a full-time, daily basis.
Additionally, Downtown Indy, Inc. purchased security cameras for street-level businesses as part of a coordinated B-link network allowing IMPD to monitor negative events and make arrests quickly.
Downtown Indy, Inc. initiated a recovery program in partnership with GANGGANG and the Indy Black Chamber that recruits Black-owned businesses to fill vacant Downtown retail parcels in. The plan, now titled "In The Mix," eventually received a $250,000 grant from JPMorgan Chase & Co.
Finally, Downtown Indy, Inc.'s marketing team created the "Back Downtown" campaign with refreshed promotional videos, digital ad placements, street pole signage, community clean-ups and other events to increase awareness and engagement.
Bob Schultz, Downtown Indy, Inc.'s senior vice president, becomes Interim President.
"It has been my personal and professional pleasure serving DII alongside Sherry for the past nine years, and I wish her the absolute best," Schultz said. "Looking ahead now, we have incredible opportunities to advance our Downtown and redouble our efforts with urgency and a collaborative spirit."