Jacob Anthony Chansley, in the middle, with other rebels who supported then-President Donald Trump, are confronted by U.S. Capitol police in a corridor in front of the Senate Capitol Hall on January 6, 2021 in Washington. Chansley was among the first group of insurgents to enter the corridor in front of the Senate Hall. (Manuel Balce Ceneta, Associated Press)
Estimated reading time: 3-4 minutes
SALT LAKE CITY – Utah Sen. Mike Lee complained on Tuesday that the Department of Justice had failed to answer questions about whether the agency was treating rioters who broke into the US Capitol more severely last January than those who took part in violent protests in 2020. throughout the country.
In a letter to the Department of Justice last June, Lee and four other Republican senators demanded answers to a long list of questions that compared and contrasted the two investigations.
"The Department of Justice's apparent reluctance to punish those who allegedly committed crimes during the spring and summer 2020 protests contrasts sharply with the harsh treatment of individuals accused of violating the U.S. Capitol Building in Washington, DC on January 6, 2021." , it is written in the letter.
Lee said his office had not received a response within 4 and a half months and was not addressing any of the issues.
"It was a statement of stupidity and quoted publicly available sources on general policies. There was not a single answer to one of our questions," he said.
Lee had the opportunity to ask some of these questions at a Senate court hearing on domestic terrorism on Tuesday. But Matthew Olsen, the Justice Department's deputy attorney general of the National Security Division, and Jill Sanborn, executive assistant to the FBI's National Security Office, had no answers.
Lee's questions included whether federal law enforcement agencies used cell phone data to track protesters in 2020, as well as how many of them were arrested before dawn in raids on SWAT teams or received search warrants. He also asked how many "witnesses" of the events of January 6 had been arrested in this way.
Sanborn had no numbers, but the mechanics of arrest are specific to each individual case and what threat the person may or may not pose.
At a Senate hearing last March, Lee suggested that the FBI may be questioning improperly people who were in Washington on January 6 but did not enter the Chapter or take part in the violence. He said he had heard a number of testimonies about people who had been in the city that day but had not approached the Chapter, which had been "inexplicably" contacted by FBI agents who were clearly aware of their presence.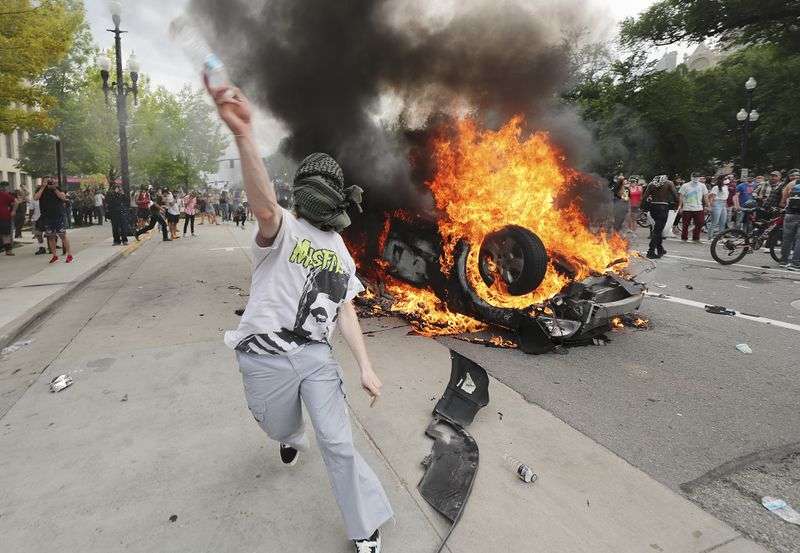 To date, the Justice Department has charged more than 725 people, including eight Utah, from attacking the Capitol.
At the hearing, Lee asked if any of them had been accused of "rebellion."
"I'm not aware of anyone being charged with this particular crime, even if it's a crime. I'm just not aware of it," Olsen said.
Senators said in a June letter that the FBI maintains and updates a website that lists the names of people accused of riots in the Chapter, but does not do the same for those arrested during the protests.
"Violence, property damage and vandalism of any kind should not be tolerated and individuals who break the law should be prosecuted," the letter said. "Of particular concern, however, is the potential unequal administration of justice to some protesters."
Lee also asked at the hearing how many people arrested in the 2020 riots were placed in solitary confinement but was unable to get an answer. He said he would put his questions in writing to Olson and Sanborn to submit as part of the minutes.
"I understand you have a great job," Lee said. "But I don't want 4 and a half months to pass again, and I definitely don't want an answer that won't respond."
Also at the hearing, Olsen said in his introductory remarks that the Ministry of Justice was creating a new unit to fight domestic terrorism after the attack on the Capitol.
"This group of specialist lawyers will focus on the threat of domestic terrorism and help ensure that these cases are properly and effectively coordinated across the Department of Justice and across the country," he said.
"We are facing an increased threat from domestic violent extremists," Olsen said. "This means individuals in the United States who seek to commit violent crimes in support of domestic social or political goals."
×
Related stories
Other stories that might interest you