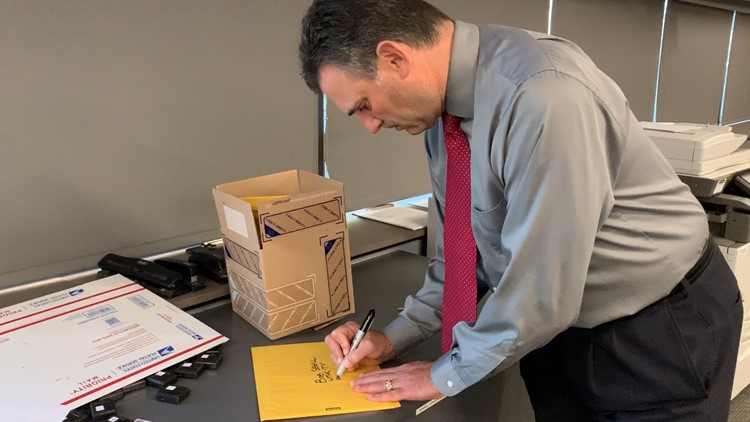 The 13News investigation did not test only delivery times; we also tested how well the Post Office keeps track of your stuff.
Mailing a priority or first class package through the USPS includes tracking service so you can monitor exactly where your package is, but 13 Investigates discovered the postal service's tracking system is far from perfect.
In each of the 30 boxes and padded envelopes mailed during our test, 13News included our own GPS tracking device so we could track it too. Those trackers showed four of the 30 packages were tracked improperly.
For example, the Post Office tracking system claimed the priority mail package we sent from Indianapolis to St. Petersburg, Fla., was located in Ybor City, Fla., on the morning of October 30. Ybor City is in Tampa, just 15 miles from the package's delivery address. But 13News' GPS tracker showed on the morning of October 30, the package was actually in Ft. Worth, Tex., which is more than 1,100 miles from its final destination. The discrepancy helps explain why the USPS needed three more days to deliver the package, which showed up later than promised.
Some packages showed only limited tracking information or were never tracked after their initial drop off.
One of our test packages was mailed from a Sacramento, Calif., Post Office on November 8. A month later, USPS tracking shows that package is still in Sacramento, even though it is not. The postal service delivered the package to the 13News newsroom in Indianapolis on November 10, two days earlier than expected.
Two other packages appear to be lost and have not been tracked in weeks. The Post Office was prepared to delivered them on time to an apartment complex near Austin, Tex., on November 1, but when the recipient did not respond to a delivery notification message, the USPS later designated the packages as "Return to Sender." Those packages have not yet been returned to 13News, and the postal service has provided no tracking update since November 10. (The batteries on our tracking devices have since stopped working, so 13News does not know their whereabouts either.)
Asked about the postal service's tracking system discrepancies, USPS spokeswoman Susan Wright told 13News: "[W]hile much of the Postal Service processing environment is completely automated, some parts still require human involvement. Some of those are scanning operations on the mail processing floor and sometimes there are errors."