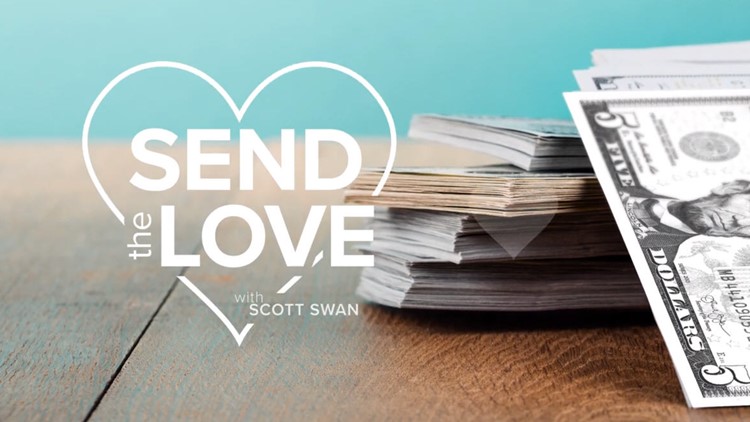 This Week's Nonprofit
:
The mission of this week's featured nonprofit is to connect veterans with rescue dogs.
Veteran's Best Friend – Indiana trains rescue animals for veterans.
This nonprofit believes dogs can ease anxiety, loneliness, depression and even help with PTSD symptoms. 
Veterans like Christopher have really benefited from the nonprofit. Christopher served in Iraq and suffers from PTSD. He got his dog, Ernie, from Veteran's Best Friend – Indiana.
Christopher said Ernie is a loving dog and a constant companion. Ernie is basically Christopher's shadow because they go everywhere together.
Wouldn't it be great to provide more veterans like Christopher with a loving pet?
If we raise $250, we would pay for most adoption fees to a local shelter or a rescue to get a dog.
$500 in donations would pay for everything a dog needs to start a new life with a veteran. This money would buying vaccines, food, treats, toys, a crate and more.
If we are able to raise $1,000, we would pay for a professional dog trainer to interview a veteran, do a home inspection and train a dog for four to six weeks.
Let's Send The Love to Veteran's Best Friend – Indiana! Click here to donate $5.


Suggest a nonprofit
:
If you have a suggestion for a nonprofit to be featured in our Send The Love campaign, please email SendTheLove@wthr.com. 
The ideal partners are small to medium size 501c3 nonprofits in good standing, located in central Indiana. The nonprofit needs to have a donation portal that can take $5 donations and be able to report totals to us. There is a strong preference to feature independent nonprofits that are not a chapter of a larger, national organization. Each organization is vetted before being featured on Send The Love.


Previous Nonprofits
:
4/25/2022 — Parkinson's disease is chronic and progressive and there is no cure.
The mission of Indiana Parkinson Foundation is to provide programs and services to those battling the disease to improve their lives physically, mentally and spiritually.
One of the ways the organization helps is through exercise programs.
Exercise is a vital component in the lives of those with Parkinson's and helps combat the rigidity caused by Parkinson's. Exercise also helps them with endurance, range of motion, balance, strength and more.
Deb Williams knows this it true because she was diagnosed with Parkinson's 22 years ago. She said if Parkinson's patients don't move they go downhill fast.
That's why she joined an Indiana Parkinson Foundation exercise class called the "CLIMB" where patients work on stretching, increasing their range of motion and improving balance and strength.
It helps them not only physically, but also mentally and spiritually.
Deb not only participates in The CLIMB, she also leads the class in drumming where they use drumsticks and trash cans.
She said the rhythmic beat of drumming helps her walk better.
Let's help Hoosiers with Parkinson's to get exercise by supporting the Indiana Parkinson Foundation.
If we raise $25, one Parkinson's patient could join a virtual exercise class for a month. $360 would allow one Hoosier with Parkinson's to join the CLIMB exercise program for an entire year.
If we raise $3,600, ten Hoosiers with Parkinson's could be in the CLIMB exercise class for an entire year.
You donated $4,546 to the Indiana Parkinson Foundation! Click here to donate.
4/18/2022 — This featured nonprofit believes getting kids involved in the arts can be a catalyst for positive change. 
Kids Dance Outreach provides dance programs to children in IPS and charter schools at no cost to them or their families.
This nonprofit wants to reach children from all walks of life so they help kids like LaDarryn who had never danced before.  
His family couldn't afford dance lessons so KDO gave LaDarryn and thousands of children like him a chance to dance for free.
Dancing has been great for LaDarryn. His mom said he has been dancing to jazz and hip hop, but he really loves country because it's high energy. LaDarryn now has more confidence in sports and his grades have gone up too.
Our micro-giving campaign can help more kids like LaDarryn experience the transformative power of the arts. 
If we raise $250, an entire class of 30 kids can participate in a one-day dance workshop.
A thousand dollars would be enough money to get one child from one workshop all the way through the process to the big stage. 
If we raise $2,500, we would pay for an entire class of 30 kids to have an in school program that culminates with a performance in their school community.
You donated $2,095 to Kids Dance Outreach! Click here to donate.
4/11/2022 — It's estimated 1 in 78 women will be diagnosed with ovarian cancer. Our featured nonprofit, Ovar'Coming Together, wants to raise awareness for the disease. 
If we raise $50, we can pay for ten "hope" packets that are filled with important resources for women who've just been diagnosed with ovarian cancer.
If we raise $3,500, the group can put up a billboard on the interstate to raise awareness for the disease. Think how many women will see it and begin to talk with their doctors about the symptoms of ovarian cancer.
$4,000 in donations would pay for the group's annual "Turn The Canal Teal" awareness event. 
You donated $3,339 to Ovar'Coming Together. Click here to donate.
4/4/2022 — This featured nonprofit is building the next generation of leaders through track and field. Most of the kids in AthLEAD Indy have never run track before.
Running and jumping is only part of the mission. AthLEAD wants to mentor these kids and make them feel like leaders in their community.
That's why their organization is called AthLEAD Indy. They want to encourage the kids to set and reach personal goals.
Here's their challenge: a lot of their equipment is second hand and some of it is falling apart.
If we raise $250, they could buy 12 new hurdles for drills and get a new starting block for the track team. If we raise $500, we would cover new track shoes for all 110 kids. If we're able to raise $2,000, it would help two of their seniors pay for college.
A $5 donation would help these young kids feel that support, and a new pair of shoes might help them set a new personal best on the track.
You donated $4,500 to AthLEAD Indy. Click here to donate.
3/28/2022 — Our "Send the Love" campaign will be a little different this week.
With the humanitarian crisis in Ukraine, we're reacting to your calls to help and are partnering up with The Midwest Food Bank.
The Midwest Food Bank is here in Indy. They are a larger nonprofit that sends packets of food overseas.
The first truckload destined for Ukraine is on its way right now.
It's going to cost $60,000 for their initial effort. We may not be able to pay for it all, but we can try. Let's all help out and see how many meals we can provide Ukrainian refugees.
Your donations will go to good use. $5 provides 25 servings of a nutritious, high protein meal. These meals include rice and beans and are fortified with protein, essential vitamins and minerals.
You donated $29,228 to The Midwest Food Bank. Click here to donate.
3/21/2022 — Breastfeeding is one of the biggest challenges facing new moms. One of my daughters has struggled breastfeeding her baby girl. In some cases new moms need donor milk for their newborns. Helping these new mothers is the focus of this week's Send The Love nonprofit.
The Milk Bank is similar to a blood bank. It receives, pasteurizes and dispenses breast milk as lifesaving medicine for premature and fragile infants.
Kids like Bailen have been helped by The Milk Bank. Bailen needed surgery as a baby and was too weak to nurse. His mom, Kelsey, then had clogged ducts she described as having a traffic jam for breast milk. Her supply dipped, so Kelsey relied on donated milk to feed her baby for a couple of weeks and said it helped take the stress away.
Bailen just celebrated his 1st birthday and is doing great. You can be a hero for babies like Bailen.
If we raise $25, we would cover the cost of a cooler and dry ice so a milk donor can mail a donation from home.
If we combine all our small donations and raise $2,000, The Milk Bank could replace their broken bottle filler in their lab which would help them get milk quickly to the babies that need it.
And if we raise $4,000, The Milk Bank could offer 850 ounces of safe donor milk.
You donated $3,076 to The Milk Bank. Click here to donate.
3/14/2022 — It's almost prom season in Indiana, but many kids find the prom experience expensive.
This week, we are featuring a small, non-profit that provides free dresses and tuxes for kids who can't afford them.
The charity is called The Gifted Gown.
Kyarie couldn't afford a dress. The Gifted Gown got her a beautiful blue dress for her homecoming at Pike High School and gave her this pink glittery dress for her prom.
Kyarie said she felt like a princess, and got so many compliments she gained confidence from those dresses.
Wouldn't it be great if we could help other people like Kyarie?
If you donate just $5, The Gifted Gown can provide a new piece of jewelry or a bow tie for someone in need.
If we raise $150 together, that's enough money to provide a gown or tuxedo, tie, or a piece of jewelry or handbag to wear for a special occasion.
If we are able to raise $2,000, The Gifted Gown could purchase a trailer or a mobile unit so they can drive around Indy and do "pop up" events with gowns and tuxes. This would be a big help to people who can't get to their Indy location.
You donated $1,819 to The Gifted Gown. Click here to donate.
3/7/2022 — A cancer diagnosis is such a challenging journey. Between the doctor appointments, surgery, chemo and radiation treatments, it can be draining physically, emotionally and financially. 
Families who don't live near hospitals here in Indy often need a place to stay as they go back and forth to see their loved ones. The SON Foundation is a Christian organization providing free private rooms in a home for family members of cancer patients.
Leslie needed that because her husband, Justin, was in the hospital fighting esophageal cancer. They live near Fort Wayne. Hotels would have been really expensive, and a hospital chair isn't comfortable to sleep in. Leslie stayed at the "SON Foundation" home, off and on, for nearly a year and a half.
Sadly, her husband lost his battle with cancer.
Leslie told me she's still so thankful she could stay at the SON Foundation home to be close to her husband.
This week, we want to Send the Love to the SON Foundation so they can continue providing Christian lodging for people like Leslie.
If we pool all the money together, we could really help. $45 provides one night of lodging for a family and $315 would take care of one week of lodging for a family. 
If we raise $1,350 we could provide a month of lodging for a family.
You donated $5,692 to the SON Foundation. Click here to donate.
2/28/2022 — Brandi and her husband Brandon both serve in the Air Force Reserve and they run a small nonprofit called Combat Cookies.
Brandi loves to bake, so they bake cookies and cupcakes and make them available in exchange for a donation. All the money raised goes toward sending cookies to military members around the world.
We talked to Abbie Wakefield who was stationed with the Air Force in Turkey. She said it was a such a breath of fresh air to get those delicious cookies.
As an added bonus, the box included pictures and letters from school-aged kids.
If we raise $500, they could send cookies to 15 military members. If we raise $2,500, they could replace their old refrigerator. And if we are able to raise $4,000 together, Combat Cookies could ship their treat boxes to ten military members every month for an entire year.
You raised $2,709 for Combat Cookies. Click here to donate.
2/21/2022 — Those of us who are dog lovers know the joy they bring us. This week's Send the Love nonprofit is a group that puts a high priority on the human-dog connection.
Paws and Think does many things, including training therapy dogs for hospital visits. They interact with patients, including kids like Silas. Silas was in the hospital a lot as a little boy and now that he's older he's training his dog Lulu to go into hospitals.
Another boy named Liam benefited from the "Paws and Think" youth canine program. Liam used to have a hard time talking with people until he spent time with a shelter dog named Tarzan.
That dog brought Liam out of his shell and now he wants to be a dog trainer.
You donated $6,172 to Paws and Think. Click here to donate.
2/14/2022 — You've heard of random acts of kindness but this week's featured nonprofit specializes in "not so random acts of kindness."
Michele's Mission of Love is intentional with making our community better.
They have a number of projects designed to make an impact in our community, like creating Easter baskets for foster kids, making mastectomy pillows for cancer patients or sleeping mats for the homeless.
Their founder told me their motto is simple: "We see you. We love you. We pray for you."
If we all pool our money together and raise $250, they can provide 12 makeup bags filled with beauty care items to women in shelters. 
$500 would be enough to purchase 33 backpacks for foster kids, each filled with a stuffed animal, blanket, flashlight and toothbrush.
And, if we can raise $2,500 together, Michele's Mission of Love could buy 125 Easter baskets for foster kids that would be filled with Barbie dolls, Easter eggs and Lego sets.
You raised $2,833 to Michele's Mission of Love. Click here to donate.
2/7/2022 — Most of us don't think much about the plastic tabs you find on loaves of bread.
A Purdue grad student discovered a way to use them to help people.
Danielle Rothchild has collected 6 million of those bread tags, recycled them and used the money to buy wheelchairs for kids in need.
Kids like Alex, who was born with Cerebral Palsy. He spends nearly all day in a wheelchair, but his family didn't have the money to buy him one.
Danielle Cares for Chairs gave him a wheelchair, all thanks to money from those recycled bread tags.
If we all pool our money together, we can help Danielle get more wheelchairs to kids in need. If we raise $250, she can buy one wheelchair for a child. Another $250 would get free shipping labels to people who want to send in more bread tags. 
If we raise $2,000 together, Danielle can provide a motorized wheelchair to a child.
As Danielle said, the more money raised, the more wheelchairs she can give out.
You donated $3,155 to Danielle Cares for Chairs. Click here to donate.
1/31/2022 — There are children in Central Indiana who don't have any books in their home. These areas are called "book deserts." Gina created the Indy Book Project because she wanted kids to have their own books, so they can build their own home libraries.
This small nonprofit has given away 61,000 books since 2018.
Wouldn't it be great, if we could buy more books and give them to kids who don't have any books at home?
For instance, if our community could raise $250, we could buy 250 board books which would let parents and grandparents read to babies and toddlers. $500 could buy 250 diverse books that would let kids see themselves in the books they read. If we can raise $2,000 together, we could help the Indy Book Project expand their summer reading program.
You donated more than $5,874 to the Indy Book Project. Click here to donate.
1/24/2022 — Having a baby is so exciting, but it can also be very stressful, especially for single parents. One Indiana nonprofit is trying to make an impact by helping out single parents. 
Sunflowers Bundles of Joy provides diaper bags and other important baby items to single parents, like VON'yah. She's expecting a baby boy in February and Sunflowers Bundles of Joy gave her a diaper bag filled with pacifiers, blankets, clothes, and diapers.
If each of us gave $5, we could combine all the donations and help this nonprofit do amazing things for women like VON'yah.
$250 would pay for five diaper bags filled with important baby items.
If we raise $1,000, we could pay for 20 diaper bags filled with other things a single parent needs.
And, if we combine all those small donations and raise $2,500, we could give 50 single parents a diaper bag filled with all those other great items.
You donated more than $3,100 to Sunflowers Bundles of Joy. Click here to donate.
1/17/2022 — The Pink Ribbon Connection provides emotional support, resources and education to those touched by breast cancer.
If we raise $250, that'll pay for 50 patient resource kits for newly diagnosed cancer patients. $500 will provide 10 new mastectomy bras to breast cancer patients. If we raise $2,500, we would pay for 25 wigs for women who lose their hair after chemo.
You donated $2,503 to Pink Ribbon Connection. Click here to donate.
1/10/2022 — 20% of kids in Noblesville are at risk for food insecurity. In other words, one in five kids in Noblesville aren't sure where they'll get food today.
A group of teachers in Noblesville knew about this problem, and they came up with a solution called Fueled for School. The nonprofit feeds hundreds of students, from elementary through high school.
The group creates meal packs for the food insecure kids to eat every weekend during the school year. They also provide meal boxes for the kids during summertime as well as fall and spring break.
Every $5 donated will pay for one weekend box for a student who is considered food insecure.
If we all pool our money together and raise $500, we would pay for the fruit needed for every child's meal box during spring break.
And, if we could raise $5,000 together, we would fund all the food for 300 kids during a spring break.
You donated $8,941 to Fueled for School. Click here to donate.
1/3/2022 — Diapers are the focus of this Send the Love campaign.
Indiana Diaper Bank gathers diapers and wipes and provides them to Indiana families who can't afford them. There are 20 organizations on the waiting list to get diapers from the Diaper bank, so the need is great.  Families also need wipes because they're expensive. 
If we pool all of our money together and raise $300, we can provide a month supply of diapers for a women's shelter here in Indy. $750 would provide enough baby wipes for one month and if we can raise $3,000, we could fund a pantry day for an entire community. 
You donated $5,338 to Indiana Diaper Bank. Click here to donate.
12/27/2021 — Hanging out. Having fun. Making friends.
That's the goal of Hollis Adams, a nonprofit that helps adults with developmental and intellectual disabilities enjoy a good quality of life.
Hollis Adams serves about 25 people a day, and they operate out of a church.
Let's pool our money together and try to help out this important group. If we raise $250, Hollis Adams would have enough money to pay for gas for a month to take people on fun outings. If we raise $500, we could pay for lunch for a month. If we could raise $10,000 together, they could build an outdoor "Friendship Terrace" so their participants could have a safe outdoor space to enjoy.
You donated $2,390 to Hollis Adams. Click here to donate.
12/20/2021 — Indiana's maternal mortality rate and infant mortality rate are some of the highest rates in the country. And we also learned that more than 500 Hoosier babies die before reaching their first birthday. Our new send a love campaign can help change that narrative. Today 13News is featuring an organization called Students for Healthy Moms and Babies foundation. This is a group that provides prenatal vitamins to underserved areas of our state. So they're sending prenatal vitamins to women who can't afford them.
If we raised $1,000, we could pay for the shipping costs to send these prenatal vitamins to the areas in Indiana that need it most. And if we were able to raise $20,000 we can fund a ride sharing program so these pregnant moms don't have to be at a bus stop waiting for a bus to pick them up and take them to a doctor, they could take a ride share to their doctor's office.
You donated $2,285 to Students for Healthy Moms and Babies. Click here to donate.
12/13/2021 — Indy Honor Flight puts veterans on an airplane here in Indianapolis and they take them to Washington DC to experience all the memorials and monuments there. They give them lunch, they get to hang out together and then they fly back the same day. It's an incredible experience for these vets, many of whom have never seen all there is to see in Washington DC. 
The trouble is, Indy Honor Flight hasn't flown since this pandemic because these veterans are at high risk because of their age. They've got 1,100 veterans who are on a waiting list right now and they're hoping to fly again beginning in the spring of 2022.
If we raise just $10 as a community, we pay for one box lunch for one veteran in Washington, DC. If we raised $500, we could pay for one veteran to go to Washington DC and if we raised $110,000, we can pay an entire plane to take 85 veterans and all the support personnel to DC for an incredible trip.
You donated $13,033 to Indy Honor Flight. Click here to donate. 
12/6/2021 — CHAMP Camp provides a summer camp experience for children with tracheostomies and those who require technological respiratory assistance. Campers can enjoy activities like swimming, canoeing, climbing and zip lining.
When 13News saw a story earlier this month about CHAMP Camp's former executive director being accused of stealing $26,000 from the nonprofit, we were worried CHAMP Camp might not be able to meet the needs of their campers. 
Hoosiers donated $10,022 to CHAMP Camp. Click here to donate.
11/29/2021 — Seven Pillars Refuge Place Indy was founded by a formerly homeless person and works to improve the quality of life for those experiencing homelessness by providing food, clothing, shoes, hygiene products, emergency transportation and housing. 
The nonprofit is entirely funded by donations and recently faced a setback after losing two vehicles.
Hoosiers donated $11,000 to the cause. Click here to donate.